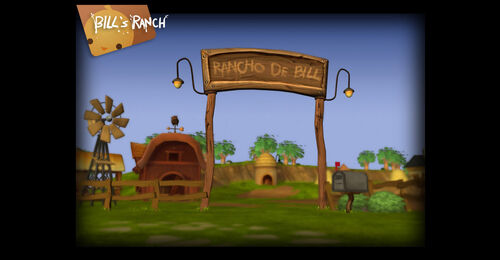 To the west of the Village Greens are the pastures and farmlands of Bill's Ranch. Bill raises cows, chickens and is a famous farmer of garlic. He and his son, Purvis, run the ranch, selling their wares in nearby Barton Town.
Connecting Areas
Involved in Quests/Missions
NPCs Found Here

| Name | Location | Type |
| --- | --- | --- |
| Larry | F8: Southeast, at the circle road | |
| Klaus Klokenmeyer | F8: Southeast, at the circle road | |
| Rancher Bill | C5: Southern entrance to the Ranch, mid-west of minimap | |
| Purvis | C4: Southern sowed field in the Ranch | |
| Rubella | B1: Northern house in the Ranch, Northwest corner of minimap | Daily Chance NPC |
| Albert | E8: Entrance to Dead Man's Pass | Guard |

Mobs Found Here
Ad blocker interference detected!
Wikia is a free-to-use site that makes money from advertising. We have a modified experience for viewers using ad blockers

Wikia is not accessible if you've made further modifications. Remove the custom ad blocker rule(s) and the page will load as expected.