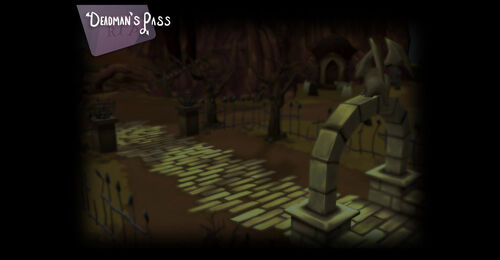 It's dark. It's gloomy. It's a twisted, creepy mountain above Bill's Ranch with a house at the top owned by an ancient family that no one sees in the daytime. It's not a popular tourist destination.
Connecting Areas
Bill's Ranch at ( East, F-5 )
Deadman's Shadow at ( B-4 )
Involved in Quests/Missions
Mobs Found Here
Trivia
Dead Man's Pass was one of the first areas to be created in zOMG, back when it was still called "Gaia Battle". [1]
The mobs here are all Animated clothing and accessories.
References
Ad blocker interference detected!
Wikia is a free-to-use site that makes money from advertising. We have a modified experience for viewers using ad blockers

Wikia is not accessible if you've made further modifications. Remove the custom ad blocker rule(s) and the page will load as expected.