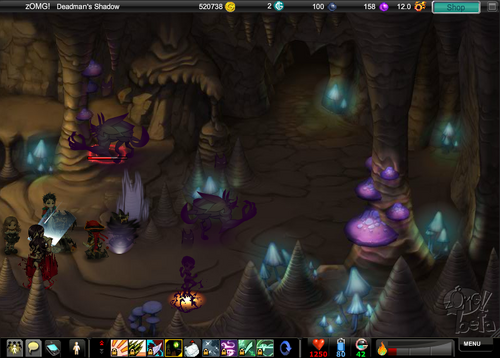 Deep beneath the mountains of the Von Helson manor lies an underground vampire lair known as Dead Man's Shadow. Few know what dangers lurk within-- it's protected by a powerful curse that prevents nosy adventurers from entering.
Connecting Areas
Edit House on the Hill - Exit after Boss Battle
Involved in Quests/Missions
Edit
NPCs Found Here
Edit
| Name | Location | Type |
| --- | --- | --- |
| Deva | Entrance | Quest Giver |
| Alastor | Entrance | Passive |
Name
Level
Drops
Family
Spawns
Notes
Blood Bat

12.5 (5,200 HP)
Blood Droplet


Red Eye

Vampire
Mimic

11.5 (10,258 HP)
Gaia Gold


Jewel Eye

Null
1
Vampire

11.0 (7,634 HP)


12.5 (8,675 HP)

Blood Droplet

Vampire
A
Werewolf

11.0 (10,175 HP)
Werewolf Pelt
Werewolf
A
Big Dog

11.5 (17,952 HP)


12.0 (18,732 HP)

Werewolf Pelt
Werewolf
1
A
Night Fright

11.5 (17,952 HP)


12.0 (18,732 HP)

Epic Recipe: Blood Bat

Vampire
1
A
Count

12.0 (24,972 HP)
Vampire
2
A
Coffin

12.5 (20,813 HP)
Null
P
Kamila

12.5 (52,038 HP)
Epic Recipe: Kamila's Vamp Top
Vampire
1
Kamila Bloodlust Form

13.0 (126,282 HP)
File:Ring: Kamila's Curse.png Ring: Kamila's Curse

Vampire
1
A, K

A = Aggressive; P = Passive; L = Links; K = Knockback
Unlucky crews might run into an "enemy" called a Grue, which will daze everyone who doesn't have a Solar Rays ring equipped. The enemy is text based, and therefore not visible or attackable. A grue will only attack during (approximately) 12 AM to 3 AM GST. (Note: Grue will not always occur.)
Ad blocker interference detected!
Wikia is a free-to-use site that makes money from advertising. We have a modified experience for viewers using ad blockers

Wikia is not accessible if you've made further modifications. Remove the custom ad blocker rule(s) and the page will load as expected.