Ad blocker interference detected!
Wikia is a free-to-use site that makes money from advertising. We have a modified experience for viewers using ad blockers

Wikia is not accessible if you've made further modifications. Remove the custom ad blocker rule(s) and the page will load as expected.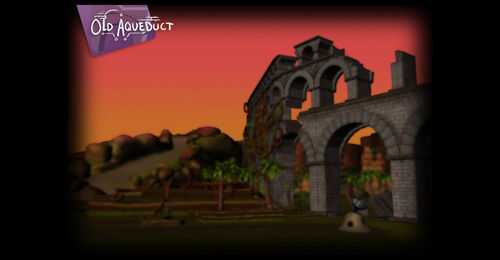 The remains of the old aqueduct that was used before the Durem Reclamation Facility was created are still present here, although dilapidated and fallen now into beautiful ruin. The jungles to the northwest stretch down this far, but have not yet fully consumed the old stones. The Zurg artifact called the Star Portal lies dormant here still, guarded by a handful of ever-present GIB agents.
Connecting Areas
Involved in Quests/Missions
NPCs Found Here

| Name | Location | Type |
| --- | --- | --- |
| Concerned Citizen | E3 | |
| G-Corp Labtech | B2 | |
| Lola | The "True Believers" hang out above A1 by the Null Crystal | |
| Tom | The "True Believers" hang out above A1 by the Null Crystal | |
| Dick | The "True Believers" hang out above A1 by the Null Crystal | |
| Amy | The "True Believers" hang out above A1 by the Null Crystal | |
| Betty | The "True Believers" hang out above A1 by the Null Crystal | |
| Spirit | The "True Believers" hang out above A1 by the Null Crystal | Daily Chance NPC |
| Hairy | The "True Believers" hang out above A1 by the Null Crystal | |
| Roderick | The "True Believers" hang out above A1 by the Null Crystal | |

Mobs Found Here