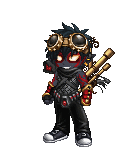 Hello
Gaian Name: MicahIsMe
I'm a CL 10.0 in zOMG!
Finally got all four endboss recipes.
I've recently been adding images and pages of the newer enemies in the game. I usually just look around adding things in that don't have to be there, but help all the same. I've mostly been around the Bestiary, seeing as that's my favorite part of zOMG! And I have an unnatural anger with all these people saying that Sand Fluffs and Sandtrap Fluffs look identical. So, I've been changing all those too xP
Feel free to say hey to me on Gaia.